I haven't even looked at futures yet... CV was wrong on "both" the OVER & taking ARIZONA last night in the "Remember the ALAMO" Bowl...
Speaking of remembering (which is not something I care to do much of as far as 2010 is concerned)... It's that time of the year to do a little "looking back" at all the things we managed to accomplish during the year...
Why not start with the great "Accomplisher in Chief" (who is busy in Hawaii
making triple bogeys
,
visiting his [clears throat] "birthplace
",
thinking about ways to "fix" the economy
,
kicking ass [of his caddy who "mis-clubbed" him when advising to hit that knock down 8 iron into the swirly wind
],
yipping a 3 footer for a "snowman", but carding a "hockey stick"
, spending quality time with the family)...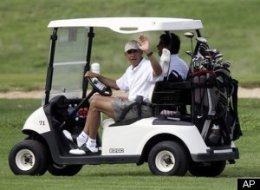 Like the Ancient Romans used to do with their Colisseum games
(to represent great accomplishments by the Empire),
the Chi-Coms decided to bring that tradition forward & held a track meet to visually honor and represent all the Great legislative accomplishments that BOTH theirs, & our "centrally planned" governments have achieved in 2010... The gala "timeline of events" spectacle was called...
"2010 - in 110 meters"
Now that the footrace has been quietly, and successfully run... All that's left to do (save for the "2nd string" slopping it up on Wall St. for another day & a half until the bonus checks are cut)... The only REAL thing left to do (since the economy is on autopilot), is sit back and relax... Appropriately - The "Relaxer in Chief"
EXTEN-ZE
his vacation plans...
as it says on the top of the can, once again, "Livin' Large"
Obama Extends Hawaiian Vacation Another Day
Apparently, the "Extender in Chief", knowing that 2011 is going to be another tough year, chock full of battles to fight (perhaps we graduate and move on to "Steeplechase" events), was motivated by what the EXTENZE product has to offer...
"One little capsule of ExtenZe gives you the manhood you've always wanted!"
He's going to need all the manhood he can muster when facing down tough customers on Capitol Hill...
(is that the "nutsack" on that gavel that he's holding there?)
CV has one final... "perplexing" question (to AK)... When was it... EXACTLY... That you made the jump from "Hope & Change" to "TEOTWAWKI"?...